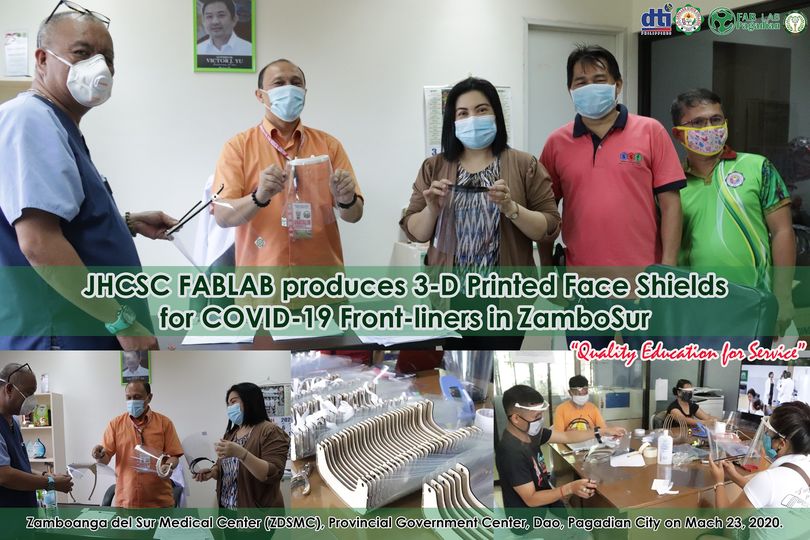 Concerned over the safety of medical front liners in battling the Covid-19 pandemic, J. H. Cerilles State College (JHCSC FABLAB) came up with the initiative to create aerosol or intubation boxes to reduce the risk of infection.
Led by JHCSC President Mary Jocelyn V. Battung, an initial of two units of Aerosol Boxes were turned-over to Dr. Anatalio E. Cagampang Jr., the Chief of Hospital of Zamboanga del Sur Medical Center (ZDSMC) on April 8, 2020. Also present during the turn-over were the College's Board of Trustee Dr. Reynaldo C. Ortiz (Private Sector Representative), FABLAB Manager Mr. Joniel L. Calibo and other ZDSMC medical front liners.
According to Mr. Joniel L. Calibo, the FABLAB team can produce an average of three aerosol boxes a day if materials are available. The boxes, which can be disinfected after every use, are made from Transparent Polycarbonate Sheet and glued together and can be installed in hospitals and COVID-19 care facilities. A box can serve as a physical barrier between the attending medical front liner and the patient, but two holes are cut out, however, for the hands of the front liner to be inserted to allow the patients to be treated from the other side.
Health care workers are most vulnerable to infection when they're performing close-in and invasive medical procedures such as intubation or tracheotomy. These clear plastic boxes will add another layers of protection in helping shield health care workers in Zamboanga del Sur from infectious COVID-19 droplets, Calibo said.