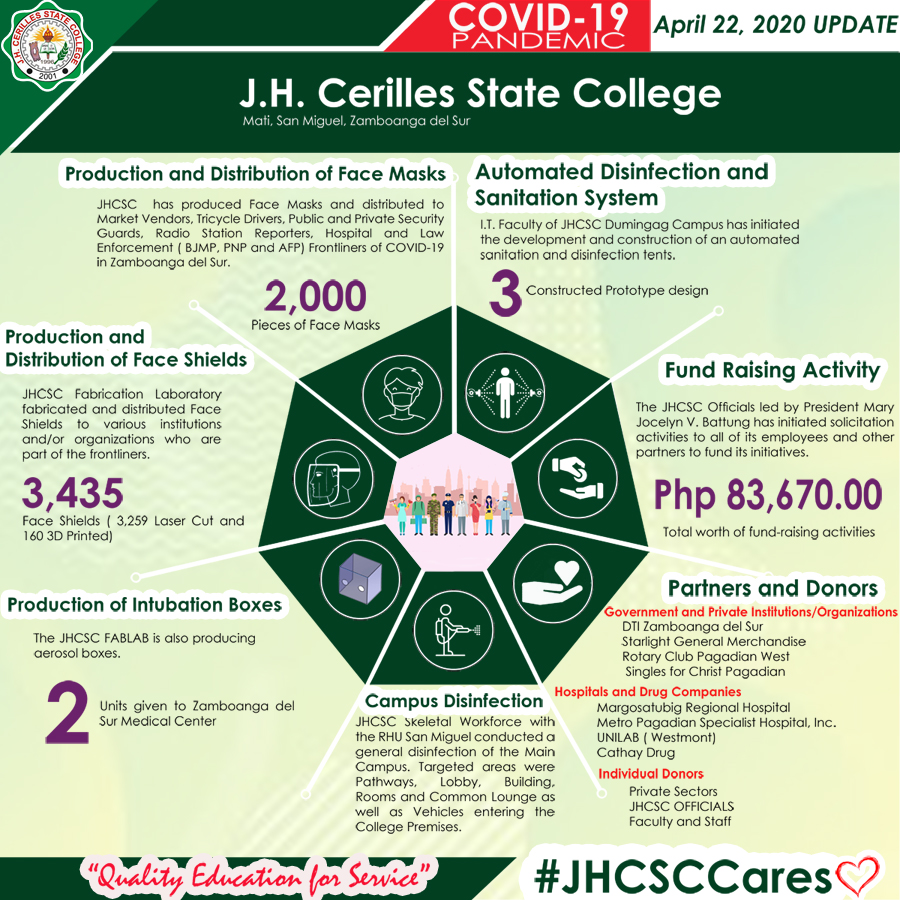 Aside from having distributed over a thousand 3D printed and laser cut face shields and aerosol boxes, JHCSC also produced and donated additional 1,000 pieces of reusable face masks that were distributed to COVID-19 front liners in Zamboanga del Sur.
The JHCSC top officials, led by President Mary Jocelyn V. Battung, spearheaded the distribution. The College considers this as a little gesture to help fellow Zambosurians during this time of health crisis.
The production of face masks was a collaboration of effort by JHCSC officials who donated cash to procure raw materials. The materials were cut, sewed, washed, dried and sanitized before they were distributed. One thousand face masks were made within two weeks.
Pres. Mary Jocelyn V. Battung, with College Board of Trustee Dr. Reynaldo C. Ortiz (Private Sector Representative) and FABLAB Manager Joniel L. Calibo turned over 250 face masks and 215 face shields to J/SSUPT Johnson M. Calub, Regional Director with Atty. Mashur S. Sala, Legal Officer of the Bureau of Jail Management and Penology (BJMP), Regional Office IX at Lenienza, Pagadian City on April 15, 2020.
Also, 25 pieces of face masks were turned over to the Rural Health Unit (RHU) of San Miguel, Zamboanga del Sur on April 3, 2020 at JHCSC FABLAB Pagadian Annex. The remaining 785 face masks were distributed by the College's Human Resources Management Officer (HRMO) Dr. Eleonor N. Ocay with the assistance of some faculty and staff to Pagadian City's market vendors, tricycle drivers, security guards, radio station reporters, hospital personnel and checkpoint front liners on April 4, 2020.
Likewise, additional 2442 ( 2366 Laser Cut and 60 3D Printed) face shields were distributed to various personnel of Zamboanga del Sur Medical Center (ZDSMC), Margosatubig Regional Hospital, private establishments and hospitals in Pagadian City, national and local offices, other RHUs and law enforcement front liners in Zamboanga del Sur.