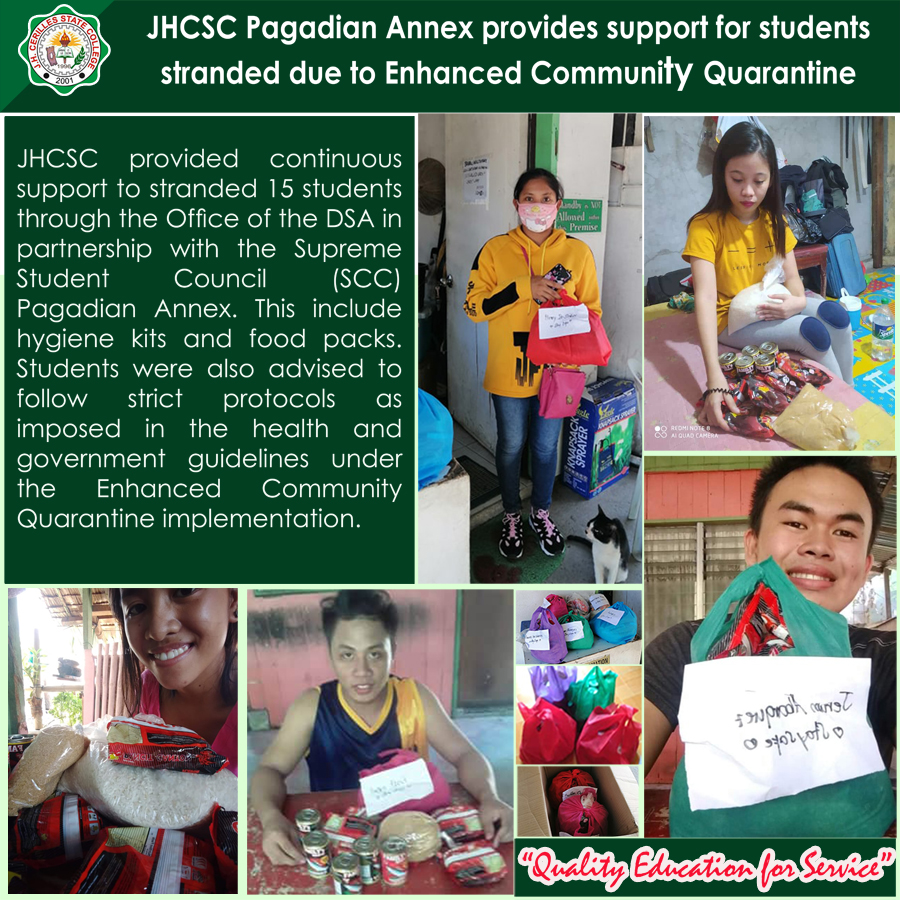 J.H. Cerilles State College will be continuing its support for 15 of its students staying in different boarding houses after they failed to go home due to the implementation of the Enhanced Community Quarantine (ECQ) in Zamboanga del Sur effective April 1, 2020 due to the coronavirus disease 2019 (COVID-19) pandemic.
According to JHCSC Pagadian Annex DSA Coordinator Mr. Marvee S. Jornales, of the stranded students three are from Masbate, Lanao del Sur and Zamboanga Sibugay, while the rest are from the different municipalities in Zamboanga del Sur. Also, of the 15 stranded students three are male and 12 are female.
Jornales said that student support provided by the College, through the Office of the DSA in partnership with the Supreme Student Council (SCC) Pagadian Annex, includes hygiene kits and food packs. The DSA Coordinator and SCC President Jehonney A. Pacalioga along with her officers are all working hand in hand in securing and packing of food packs as well as the monitoring of stranded students. Food packs are claimed at the guard house of JHCSC Pagadian Annex. Students were also advised to follow strict protocols as imposed in the health and government guidelines.
He added that they are trying to respond to the urgent needs of the students. The College continuously makes contact with the students to provide support and counseling, emphasizing that the DSA office continues to find ways of helping those stranded students.
To conclude, Jornales emphasized that the students' welfare was the primary concern of the College amid the pandemic and adding that the stranded students were the College's responsibility.