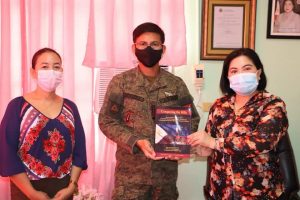 The Philippine Army's 53rd Infantry "MATAPAT" Battalion (53IB) and JH Cerilles State College (JHCSC) have affirmed stronger partnership to fight CPP-NPA recruitment among the youth in a meeting held at JHC Main Campus at Barangay Mati, San Miguel, Zamboanga del Sur on February 11, 2021.
The 53IB donated books pertaining to the Philippine Army's fulfillment of its mandate to serve the Filipino people and secure the Philippines to JHCSC.
53IB Commanding Officer Lt. Col Jo-ar Herrera presented Five (5) books including Crossing the Red Line, Leading from the Heart, The Wars Within, Conquering the Hills, Breaking Free (from Communist Deception), Marawi and Beyond to the President of the said State College.
The said books are narrations of actual accounts of young people's fateful journeys who were once deceived (Breaking Free), rebellion, resilience, and redemption (Crossing the Red Line), the successful military campaigns against the communist terrorists in Zamboanga Peninsula and Misamis Occidental (Conquering the Hills), documents the challenges, lessons learned, and triumphs of the Philippine Army during the Battle of Marawi (Marawi and Beyond), struggles of Former Top CPP-NPA-NDF Cadre ( The Wars Within).
"The teachers and professors are instruments in building and shaping the minds of the next generations. They make good lawyers, doctors, businessmen, and more. The battalion believes that academic institutions are more capable of molding more good peacebuilders and peacemakers in our country," Lt. Col Herrera said.
The President of the JHCSC Dr. Mary Jocelyn V. Battung said: "I am grateful for the official visit and book donations. The students and faculty will have the opportunity to learn the lessons of peace and security in Zamboanga del Sur."
"With the efforts of 53IB in defeating the communist terrorist group, these initiatives will empower and equip young people to thwart and shield themselves against extremism and ideology of violence," she added.
The Battalion Commander of 53IB together with the President of JHCSC discussed the following agenda in their meeting; Peace and Security, Stop Deception and Radicalization, Empowering Students, Collaboration and programs to support the Former Rebels, Special Section in the library for peace and security books donated by the Philippine Army.
The JHCSC is composed of Four (4) Campuses; the Main Campus in Mati, San Miguel, the Dumingag Campus in Caridad, Dumingag, the Canuto MS Enerio Campus in Biswangan, Lakewood, and the Pagadian Annex at Barangay Balangasan District, Pagadian City, Zamboanga del Sur.
With a total number of Ten Thousand (10, 000) students and Four Hundred Fifty (450) Faculty Members and Staffs, the JHCSC has established ideals with its core values as the foundation of building and molding its students for Justice, Peace and Unity Accountability, Hope, Honesty and Humility, Credibility and Integrity, Social Responsibility and Interfaith Dialogue, Collaboration and Shared Competence.
Source : https://1id.army.ph/2021/02/18/53ib-jhc-state-college-affirm-stronger-ties-vs-cpp-npa-recruitment/